What Is It?
It's a pillow that was created with love and closeness in mind. The Coodle® is the OG of cuddle pillows. It has a revolutionary brace design system that prevents the weight of your cuddle partner's head from squashing your arm. Now that arm won't fall asleep or go numb. Cuddle close for a longer period of time during bed or couch time.
Shop Now!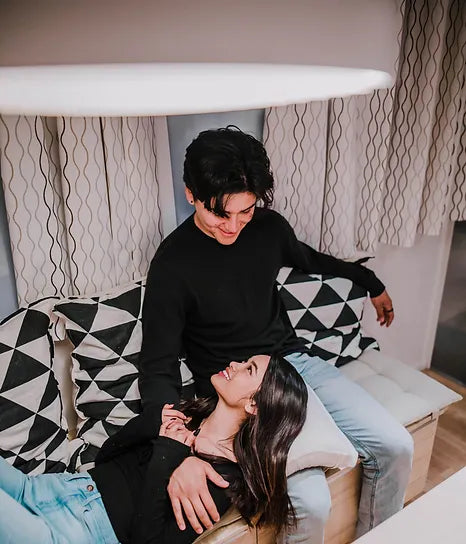 So Many Uses!
Snuggle comfortably while you binge watch that new series. The big spoon can easily slip out, make another batch of popcorn, then resume that cozy position. All this without bothering the little spoon. 
Use it when you're lying on your side

Prop your head up with it and watch T.V. 

Take a tabletop nap at work or school  ; )

Take it camping or on your next road trip
Made in USA
The Coodle® is made from high quality US made foam. The plastic rib-like braces act as support arches. These plastic pieces and the cloth covers are created here in America and everything is assembled in the Golden State. 
Note that the internal braces are 3.125" inside the original Coodle® Pillow. The Coodle® Grande's braces are 3.75". Models are shown using the original size Coodle® Pillow.